As the craziness of SX rolled in, we rolled out✌🏻atx&o took a weekend getaway to the land of the Cubs, deep dish pizza, Kanye and our home base of 25 years...Sweet home Chicago!
There's something unique about being a visitor in a place you used to call home. A fresh perspective washes over you; it's like seeing your side chick through a new set of eyes and remembering she used to be your main. 😉
Chicago has 77 neighborhoods and spans 234 square miles. Our high heeled boots couldn't cover it all, so we focused on Wicker Park where Ashley lived before moving to Austin. The local businesses and sights surrounding the neighborhood's namesake are some of our fave in the city. We created this local 's guide to steer you towards an amazing afternoon on Chicago's west side.
We kicked off our adventure by taking the Blue Line from downtown. Hustle and bustle fills Chicago's "L" (short for elevated line), giving riders a sense of immediate purpose. And for $2.25 a ride, it's a cheap and easy way to get where you're going without being enveloped in rush hour traffic. Our purpose for the day took us to the Damen stop, conveniently located a block away from the actual Wicker Park. We love the small details of Damen stop; its recent renovation kept its historic Queen Anne architectural charm and elaborate metalwork (how simplistically beautiful and unexpected is that diamond pattern?!).
Once we hopped off the stop, we "trekked" the 30 second walk to Big Star, the Mecca of tacos in the Midwest. Living in Texas has turned us into taco snobs (shoutout to Torchys all day erryday), but Big Star is our O.G. spot for tacos from our Chicago days. This 1940's gas station turned taco joint brings Southern hospitality to the north complete with the tagline "tacos, whiskey and honky-tonk".
We kicked off our meal with a round of Big Star margs (aka smoky mezcal goodness) and the original queso... queso fundido w/ corn tortillas. Nom nom nom. Next came the tacos. This is where Big Star shines by nailing the Mexican street food classic while still putting their own twist on it. We loved the Taco de Pollo which is topped with pickled chayote, cilantro, queso fresco, pepita and...sesame seeds! So much yum, so little time. So after a a few quick shots of Big Star's funky TACO marquee sign, we were off.
Side note: Big Star quickly fills up, so to accommodate more folks, they have a pick-up window with an outdoor seating area. The "Eat More Tacos" mantra on their pick-up window inspired us to make our very own embroidered version...although we don't really need the reminder ;)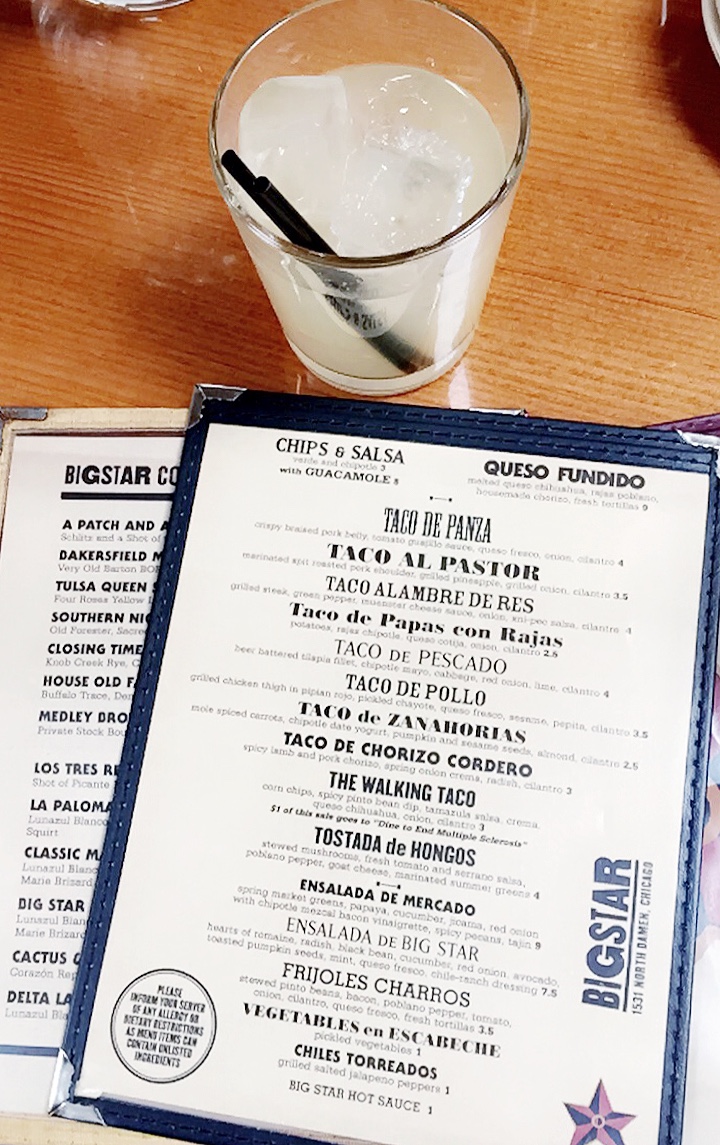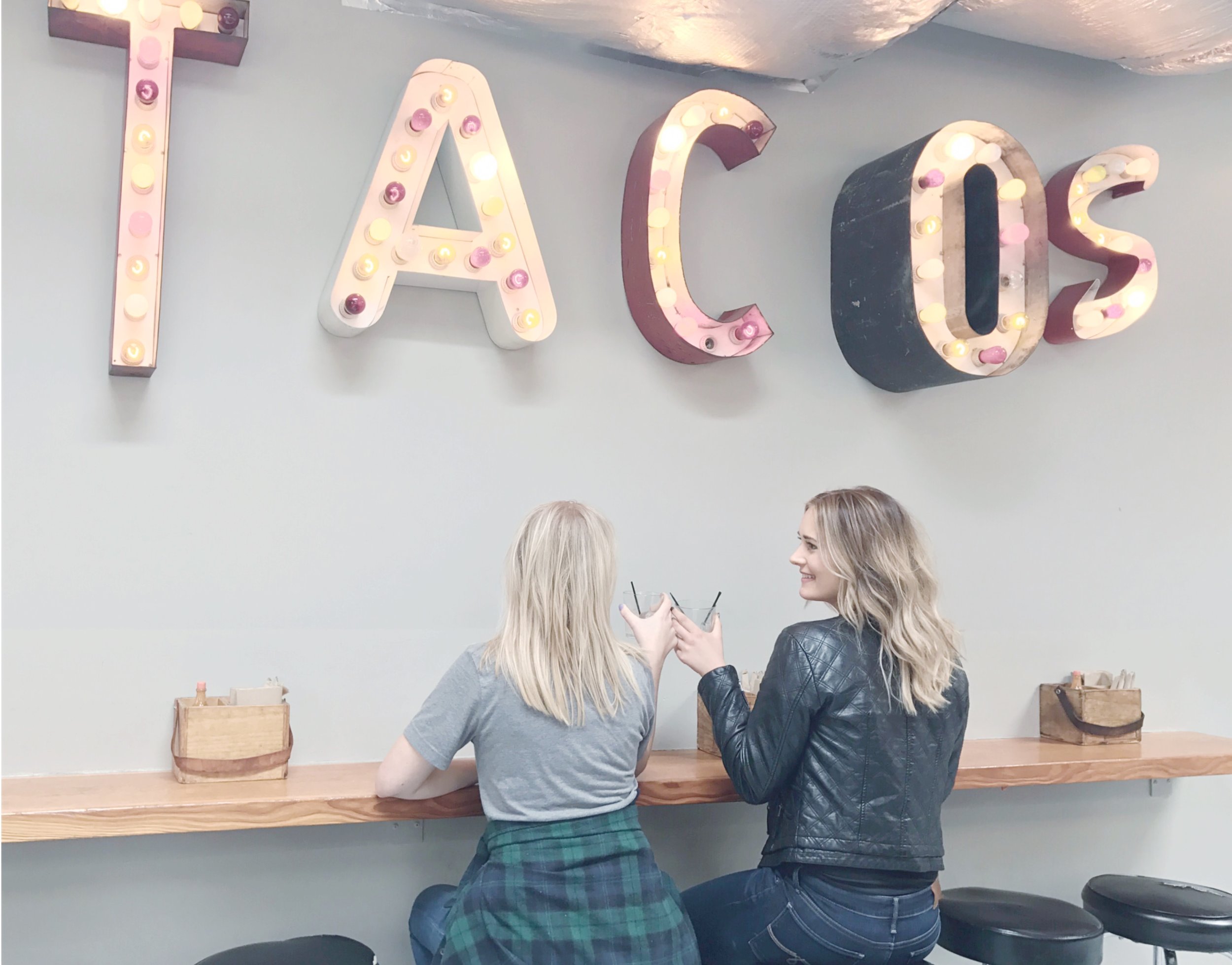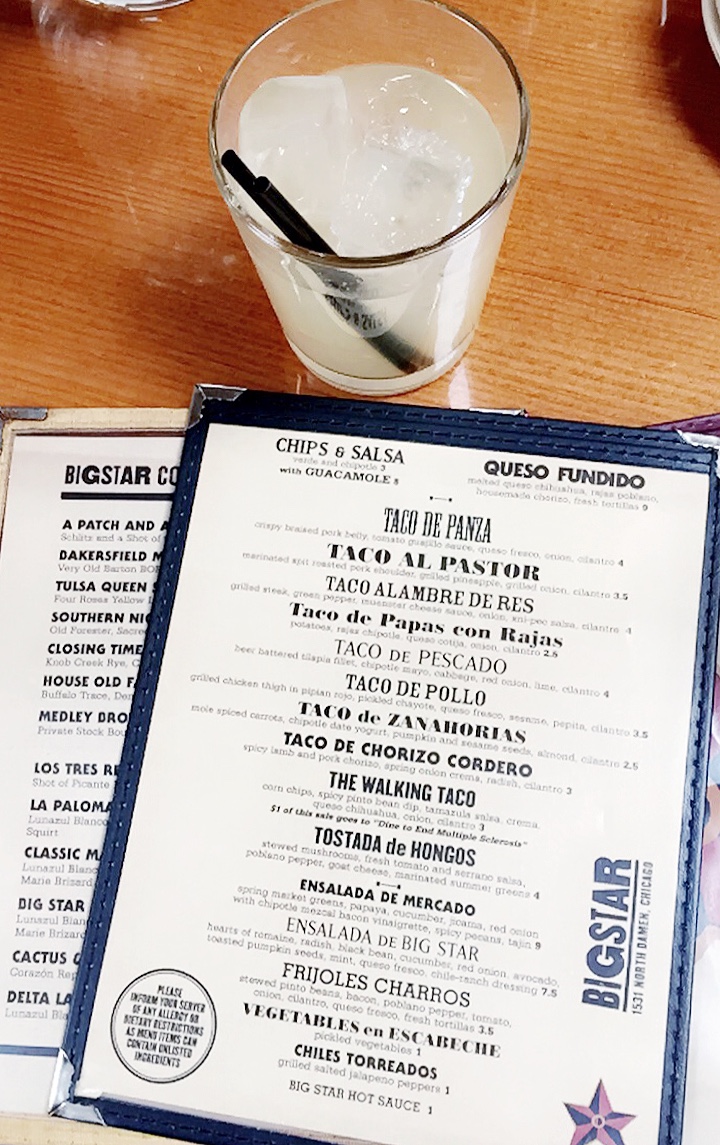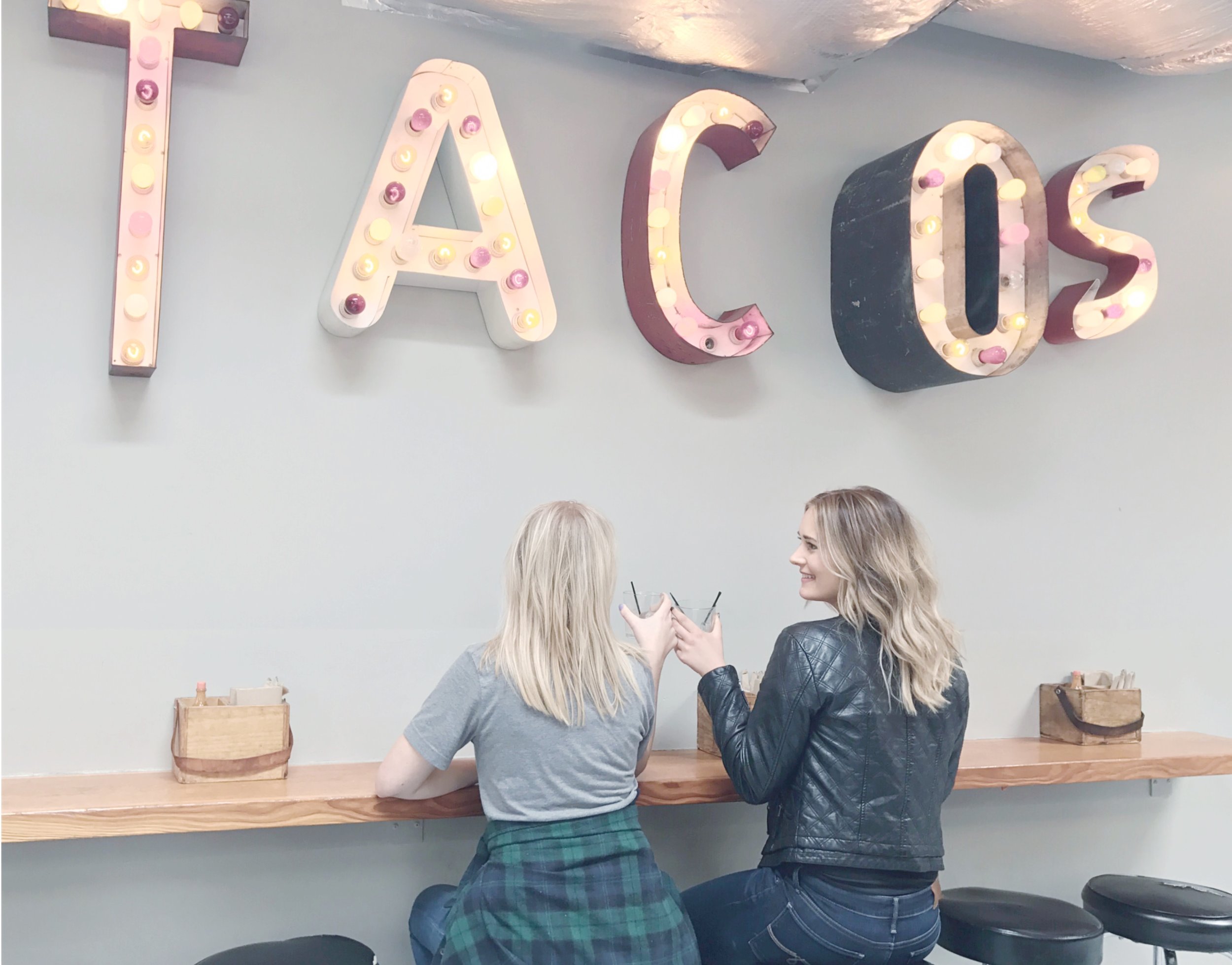 Once we were fully in our taco & marg coma, we went on a mission to burn off some cals and capture more of the culture immediately surrounding the actual Wicker Park. A block is Six Corners, a six way intersection connecting Damen, North and Milwaukee. It's home to miles of boutiques, restaurants and dive bars; everything from Una Mae's unique vintage clothing store to the iconic Empty Bottle music venue to Trench, a bathhouse turned New American restaurant. The area is organically decorated with local street art. We stopped to pose with the heavily sticker-ed street signs and the vibrant Double Door graffiti.
We ended the day with a creative cocktail at the jewel of Wicker Park, Violet Hour. For those not knowing what they're looking for, it's easy to miss. There's no sign out front, just an always impressive and always changing mural with a single light above the front door. Talk about speakeasy #goals!
Their current mural is by contemporary artist and Chicago native, @JennyVyas. A giant set of wings with the hashtag #HowWillYouRise beautifies Violet Hour's otherwise grey exterior wall. The painting encourages interaction by asking visitors to take a picture with the wings and share how they will "rise from adversity and pain" in their lives.
Violet Hour keeps the modern prohibition vibes inside as well with thick velvet curtains, intricate crown molding, high-backed velvet chairs, chandeliers dripping from the ceiling and candles illuminating your way through three salon areas. The House Rules (below) add to the ambiance and are also the reason we don't have pics of inside (no cellphones, which gave us the perfect escape from technology that is oh so hard to find these days).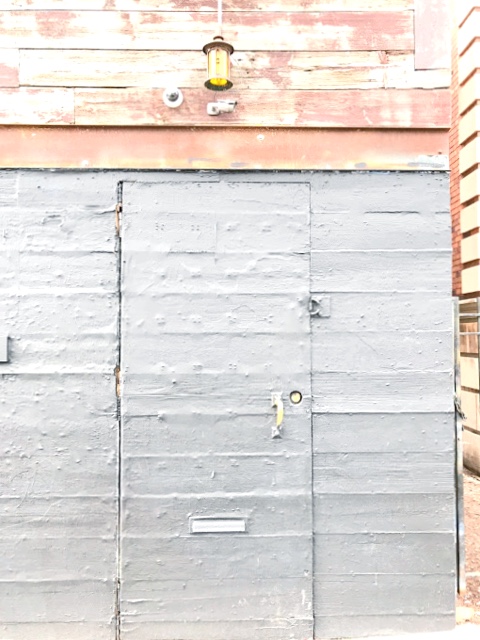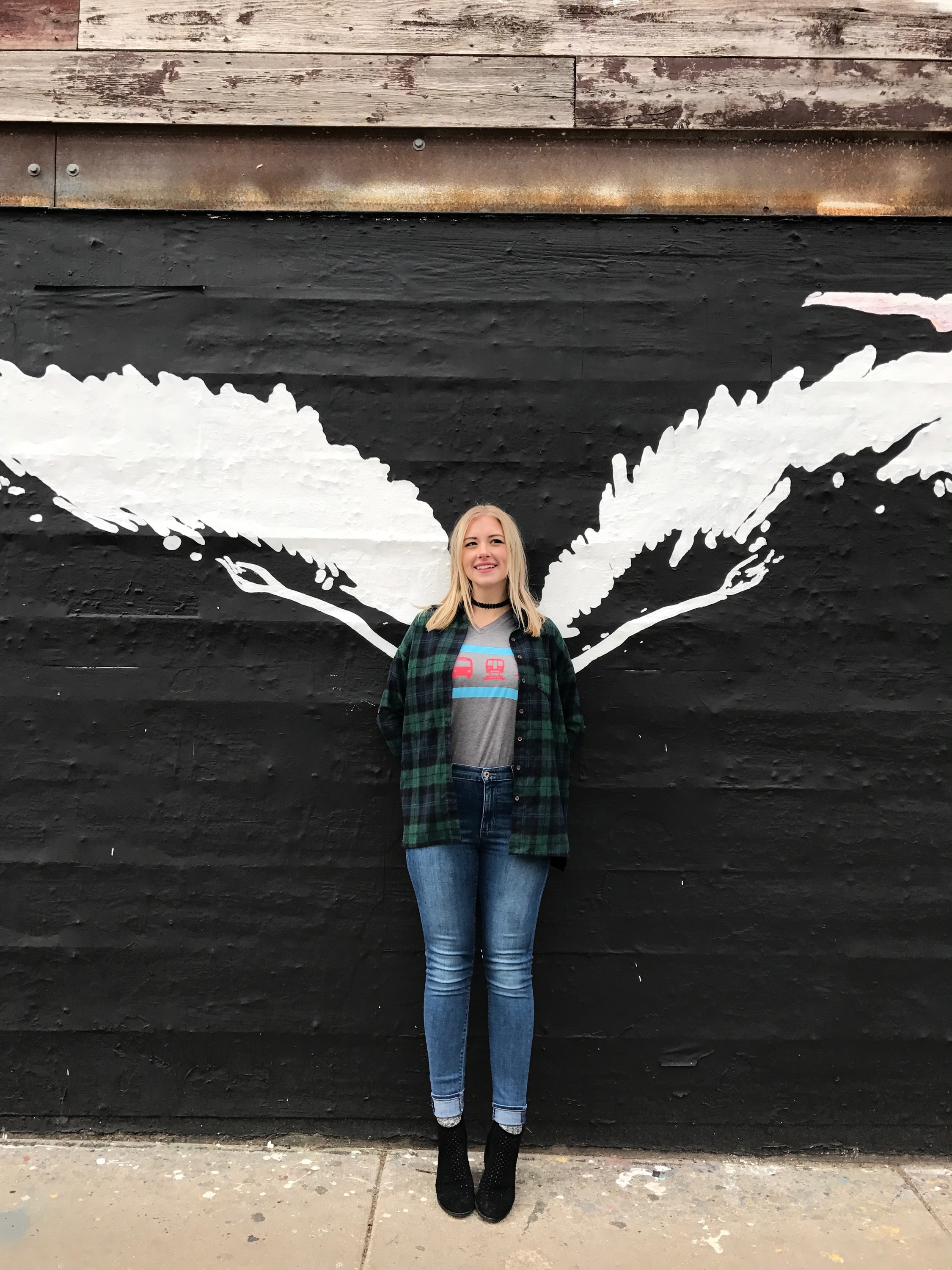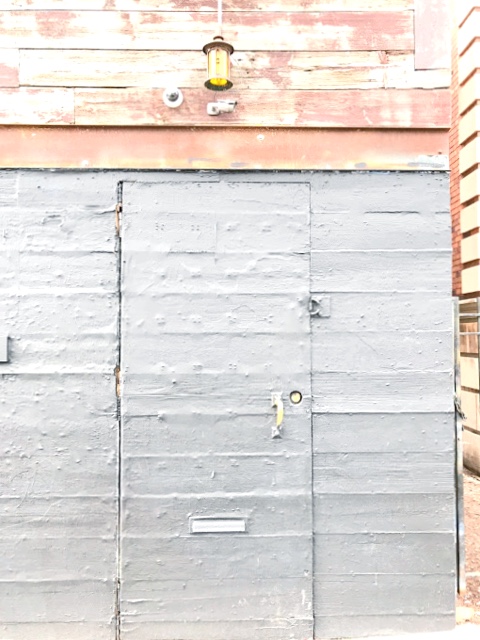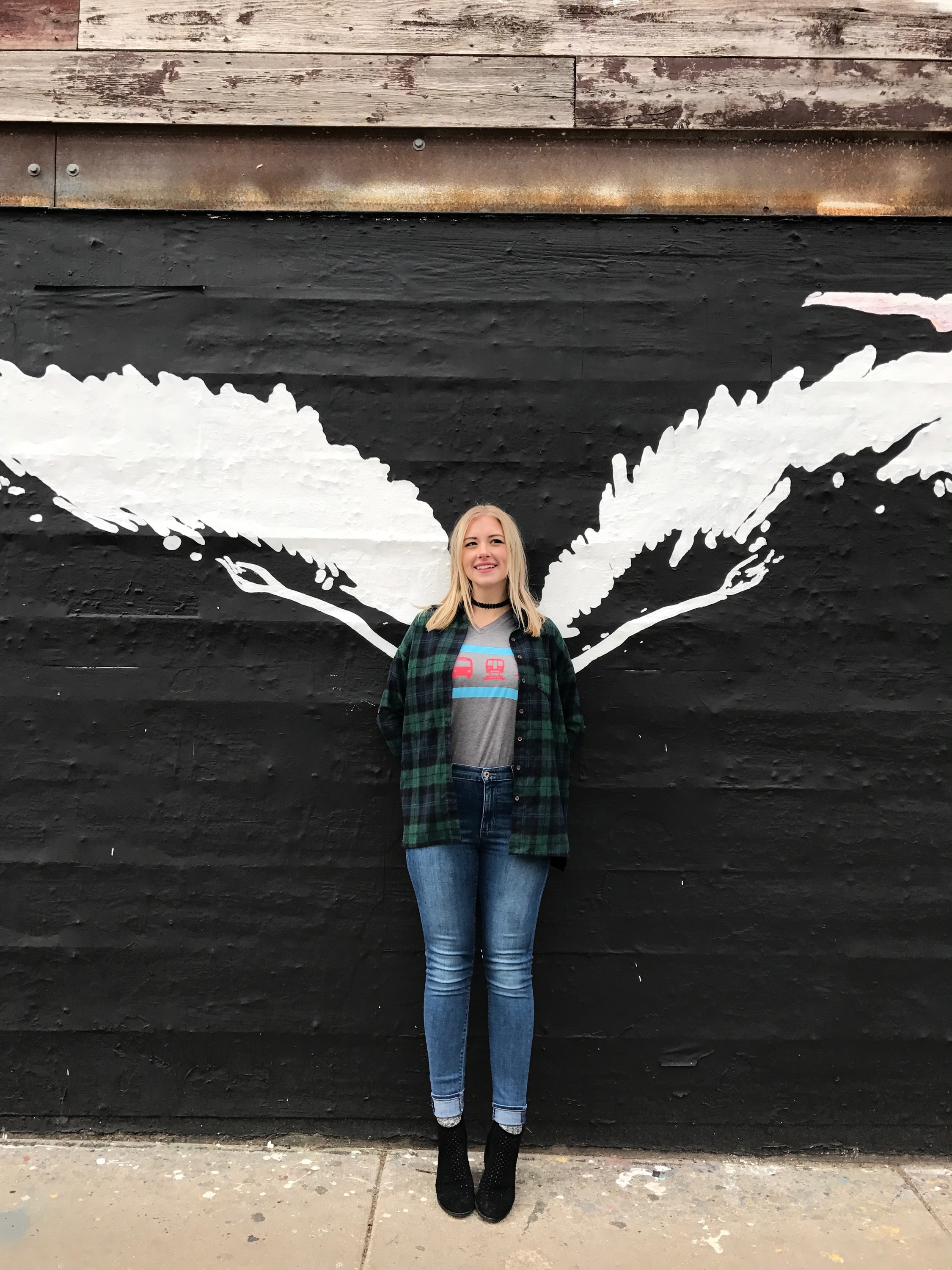 If you're visiting Chicago and are looking for more ideas on ways to explore our hometown, shoot us a note at hello@atxando.com--- we'd love to help! Now go on and play us out, Kanye...